Anti Blue Light Gaming Glasses – Reduce Visual Stress & Digital Eye Strain
Our Anti Blue Light Gaming Glasses are engineered to eliminate digital eye strain and recommended by doctors to protect your vision during the computer and device usage.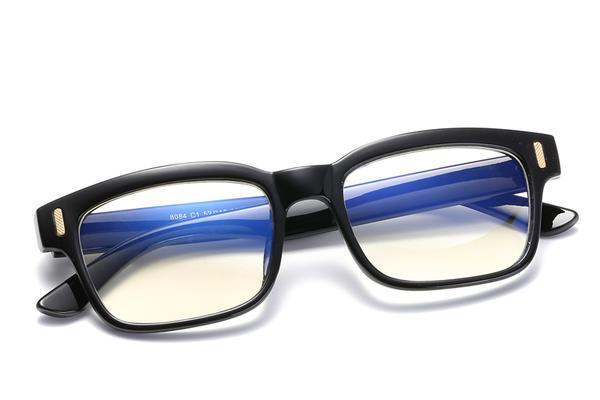 Why Choose Blue Light-Blocking Glasses?
The special lenses eliminate eye-strain and reduce headaches caused by scattering blue light. Your eyes don't have to work as hard to focus on that high-energy, short-wavelength spectrum.
You will be able to fall asleep faster, stay asleep throughout the night, and wake up feeling much better-rested. Filtering blue light helps regulate melatonin production and helps your body adjust back to its natural sleep rhythm.
Long term blue light exposure can lead to serious medical conditions such as macular degeneration. Rather than treating this condition later in life, it's far more beneficial to prevent it all together.
Our Gaming Glasses are used to:
✅ Block Blue Light
✅ Reduce Digital Eye Strain
✅ Prevent Dry Eyes
✅ Minimize Glare
✅ Help You Sleep Better
Our Clear Lenses vs. Popular Blue Light Filtering Software
IT'S TIME TO ELEVATE YOUR GAMING TO THE NEXT LEVEL WITH Anti Blue Light Gaming Glasses!
SUPERIOR BLUE LIGHT BLOCKERS – Our eyes are not designed to filter or block blue light. These blue light block glasses reduce 97% of light that is emitted from electronic screens like laptops, TVs, cellphones, light bulbs and much more!

GLASSES MADE FROM REAL WOOD – Many of the blue light glasses on the market are functional but not trendy. The bamboo arms on these computer glasses are ultra-comfortable and super stylish. You'll love wearing these glasses when out and about.

DRASTICALLY IMPROVE YOUR SLEEP – Blue light suppresses melatonin which will directly affect the quality of your sleep. By reducing your exposure to artificial blue light throughout the day, you're helping to optimize your sleep.
SAY GOODBYE TO EYESTRAIN – Digital Eye Strain can produce symptoms like headaches, blurry vision, poor posture and other issues. These blue light block glasses reduce eyestrain which will have a noticeable effect on your health and wellbeing.